Need an Attorney You Can Count On?
We are proven Criminal Defense Attorneys in Austin, Texas with outstanding track records.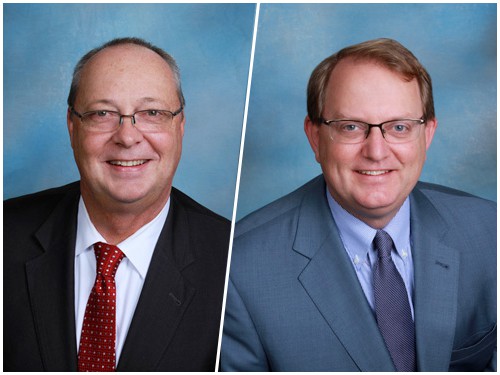 Being accused of a criminal sexual offense can instantly change your status in the eyes of the public. The experience can be mentally and emotionally overwhelming.  Because of the sensitivity of sex crimes, these are cases where having a lawyer involved as early as possible can have a drastic impact on the outcome of the case. Both Brian and Rhett are experienced Austin sex crime lawyers, and act as both counselor and attorney, protecting your rights as they sort out the facts of your case. Simply having a confidant can make the entire process more bearable.
At Hines & Holub, we are dedicated to defending the rights and image of people charged with sexual assault, computer sex crimes, and other serious sex charges.  We understand our clients' need for security, guidance, and explanation of sexual crime investigations.  We act as communicator between our client, police investigators, prosecutors, and sometimes the media. As well, we try to reach witnesses as quickly as possible to get a clear picture of the case. An Austin sex crime lawyer at Hines & Holub can help clients charged with the following sex offenses:
-Rape (including Statutory Rape, Date Rape, and Spousal Rape)
-Sexual Assault | Aggravated Sexual Assault
-Child Molestation
-Internet Sex Crimes
-Solicitation of a Minor
-Sexual Abuse
-Lewd Conduct
-Failure to Register as a Sex Offender (when required)
"Sex Offender Status"
In addition to the risk of lengthy jail time, people charged with sex crimes also face the burden of being categorized as a "sex offender."  Convicted individuals are required to register between 10 years on some charges, to as much as lifetime registration for more serious sex offenses like child pornography or sexual assault.  Sex Offender status can make life very difficult. Even simple things like finding a place to live, getting a job, or traveling can be made nearly impossible.
When You Need an A
ustin Sex Crime Lawyer
If you or a loved one has been accused of a sexual offense, call an experienced Austin sex crime lawyer at Hines & Holub to see how we can help.
What Is Considered a Sexual Offense in Austin, Texas?
In Austin, Texas, a range of sexual offenses are designated as criminal acts. These include behavior considered to be non-consensual, such as sexual assault or rape, as well as violations that involve sexual contact with minors, such as statutory rape or indecency with a child. Other sexual offenses in Austin include sexual coercion, indecent exposure, and possession or creation of child pornography. It's important to note that even actions that seem consensual, such as engaging in sexual activity with someone who is intoxicated, can be considered a sexual offense. These crimes are taken very seriously in Austin, and convictions can result in significant fines, jail time, and registered sex offender status. It's important to work with a skilled criminal defense attorney if you have been charged with a sexual offense in Austin.
What Are Penalties for a Sex Crime Conviction in Texas?
Sex crime convictions in Texas carry severe penalties, including lengthy prison sentences, probation, fines, and mandatory registration as a sex offender. The severity of the penalties depends on the nature and severity of the offense, as well as the offender's criminal history and age. For example, sexual assault of a child under age 17 carries a sentence of 25 years to life in prison, while sexual assault of an adult can result in 2 to 20 years in prison and a fine up to $10,000. Being convicted of indecent exposure can cost the offender up to $2,000 in fines and up to 6 months in jail, while possession of child pornography can result in up to 20 years in prison and a fine up to $10,000. In addition, certain sex crimes, such as aggravated sexual assault, are subject to the state's "three strikes law," which can lead to a sentence of life in prison without parole.
What is a Sex Crimes Defense Attorney?
A sex crimes defense attorney is a legal professional who specializes in defending individuals who have been accused of committing sexual offenses, such as rape, molestation, or sexual battery. These attorneys work to protect the rights of their clients by examining the evidence in the case and building a defense strategy to challenge the accusations. Sex crimes defense attorneys also work to ensure that their clients receive fair treatment and a just outcome in the court of law. It is an important role that requires a deep understanding of the legal system, as well as compassion and empathy for the accused and their families.
Why Hire Our Sex Crime Lawyers
It is essential to hire experienced and specialized sex crime lawyers if you are facing sex crime charges. Our attorneys have years of experience representing clients in sex crime cases. They have a deep understanding of the law and can help you navigate through the complex legal process. We understand that being accused of a sex crime can negatively impact your reputation and personal life. Our lawyers stand by your side every step of the way to protect your rights. We also know that an experienced defense is critical to obtaining the best possible results for you. Our sex crime lawyers have a successful track record and will fight relentlessly to ensure the best possible outcome for your case. So, if you want expert advice and representation, hire our sex crime lawyers.
Call our on-call attorney now to discuss your case.
No matter how complex your charges may seem, you can have peace of mind knowing our legal team is behind you. You aren't in this battle alone. Get our Austin criminal attorneys on your side today.